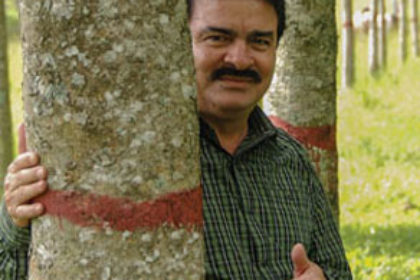 From barefoot boy to a successful man
Newspaper article AltiplanoCentral.com
Siguatepeque – Comayagua. Undoubtedly the recognized company "Seeds Tropical " located in this county, bears the personal stamp of his own Oscar Ochoa Mendoza engineer who in turn serves as general manager of the same . In this sense speak engineer Ochoa stands for righteousness, responsibility, leadership , professionalism and above all friendship , and it ensures everyone in the know, is why it is no coincidence that your business is a success at national and international .
While still very young but with the enthusiasm that characterizes the Ochoa engineer emigrated from his hometown Oropolí , located in the department of Paradise where he left her navel , to move to the capital city, there completed his secondary and higher education where he learned the ABC of his profession and after a few years moved to this city of Siguatepeque.
That's still very young , where the Ochoa case engineer one of the most successful companies of the central region , and then it became one of the most important in Honduras , Central America and the world.
With this preamble and in order to know more about personal and business life Ochoa engineer , we offer this interview personality of this renowned city, to realize their traits and idiosyncrasies of such a distinguished resident of Siguatepeque.
For that purpose we went to his office we located at this address , kindly engineer met us to begin an interview that became a very pleasant conversation where we could capture the simplicity and essence of the person who started his entrepreneurial dream at an early age while still with your bare feet :
Reporter : How was the childhood of Oscar Ochoa
Mr. Oscar Ochoa. R / In a rural setting , working from the age of four years with my father in the daily chores of a small farm , I think that growing traditional crops of our country in a natural context , reflects much of what is now I am.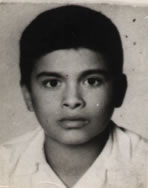 Q / Tell me a little about your family?
O. Eng R / The family is composed of my father Juan Ramón Ochoa Martínez now deceased and my Mother Angelica Mendoza Aguilar , sister Eusebia Ochoa Mendoza, Otilia , Juan Ramón , Ada Argentina and Hilda and of course that I'm the second of the family after my sister Eusebia .
P / How was your family background ?
O. Eng R / Each of us grew up in a family environment with lots of love , much respect, much honesty and appreciation for others . The vein of my mother comes from a family with surname Mendoza Aguilar and Morazán, linked in some way to the family of Central American hero Francisco Morazán Quezada, so I gather that's influenced so that we have some community outreach and compassion to help people .
P / How was the economic situation at that time ?
O. Eng R / I would say average but with limited financial resources , that if, with much moral work resource and household , we always had what necessary and even though my parents did not go to school all of us study and were subsequently to universities and with the effort of everyone. I happened to sell firewood to fifty cents a package brought back and curiously touched us sell what we grew in the garden, and also went to sell candy to Nicaragua since the border was very close to our house.
P / Do you have any pleasant or sad reminder that you have marked your childhood?
O. Eng R / The memory is nice to see that we grow crops did with love and dedication , as well as live animals to hunt , that woke me up much love for nature and living with my classmates in my childhood and youth. The sad memories that I have of my childhood is the wear shoes for the first time at age six.
P / How will the idea to migrate to Tegucigalpa?
O. Eng R / I tell him that I left my village in a " varonesa " in the year 1969 with the help of a good friend of my father named Andres Valladares now deceased , who lived in Tegucigalpa and had his farm near that of us.
P / What school did you study?
Eng R / At school " Francisco Morazán " in Oropolí and it is called nowadays , peculiarly when it happened as Hurricane Mitch got a donation to the British government and completely rebuilt .
Q / A where he completed his secondary education ?
O. Eng R / In Tegucigalpa in the institute " National Culture " but the last six months I finished not there because I moved here to Siguatepeque and finished my last year in high school " Genaro Muñoz Hernández" of this city as Perito Mercantil and practitioner .
P / How I made ​​to pay for their studies ?
O. Eng R / I worked in the Department of Forest Resources and Fisheries House in Tegucigalpa, this was a dependency of the Secretariat of Agriculture and Livestock of the time. Memories offices were on the seventh floor of the National Bank for Agricultural Development ( BANADESA ) for me, after coming from a people, was proud to work there, it was something that I could not believe . At that time lived in a neighborhood called Kennedy in the capital city and many times I had to walk back to my house due to transport circular had their hours at night then and walked sometimes simply group returned with coworkers to our homes.
P / Where did his higher studies ?
O. Eng R / I managed to earn a scholarship at the National School of Forestry ( ESNACIFOR ) , that we compete to get three hundred students , I got second place. I went to forestry school and graduated earning second place in my class , the same school awarded me through the FAO with another scholarship to have Venezuela in Latin American Forestry Institute of Forestry Research and Training in Merida, where I studied for about one year, getting a major in forestry branch. Then back to work on being there ESNACIFOR and I won another scholarship to go to Chile for two years when I took another specialty that was not an academic degree. Later I took engineering in forestry in the United States at the University of Mississippi for two years. On my return to Honduras assumed the sub address ESNACIFOR and being there I was sent to Britain to be get a graduate degree in management of forestry businesses in the Aberdeen University in Scotland before traveling to England where I studied a specialty in agroforestry in university of Oxford.
P / How to know your wife?
O. Eng R / The very fact of working in ESNACIFOR allowed me to socialize, that way I met my wife even though she knew of other young people in Tegucigalpa and in all countries where I was , but I think one of the smartest decisions I've made ​​in my life is to find a girl with the same habits and training than mine, I tell you it took me some time to make the decision and after two years I got married at the age of thirty.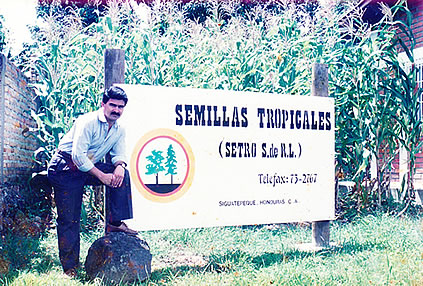 Q / As the company " Tropical Seeds "? born.
ing . . O. R / This company was founded with the idea of ​​my wife, she always thought we should be independent , she valued my professional training and experience. Thank God and consequently in the year 1992, a situation the government of Rafael Leonardo Callejas where space through agricultural modernization law was created to attract the company was presented .
P / Where the company start?
O. Eng R / The started at home, in the garage, in the room, in any corner, was small but with a serious vision, a dream that one day would be great as it is now but we are still halfway , still there is another dream there.
P / How is the relationship between his wife and work?
O. Eng R / is rewarding because it allows me to keep living home, it is good to be near the two for any decision yet stressful in the sense of being at home and at work , but a matter of knowing driving under the concept management , this allows me to somehow have better control with the only restriction that can not be expanded because space is limited.
P / Have you ever imagined that his company would go so long ?
O. Eng R / I was optimistic and looked to get things often felt coming surprise but I think that came as a blessing and that blessing I think is bound to do things with heart and love , I never thought the company was going to qualify internationally as an exemplary company also never expected the company to qualify as exemplary nationally and as a result we have an award in the government of Ricardo Maduro. That forces us to go ahead and we are proud to meet the country to plant millions of trees that somehow are already beginning to bear fruit in the sense of generating oxygen, finished wood , wildlife and biodiversity products that I love , now see the results not only in our customers and distributors at national and international level, but in us because we have our own plantations .
P / What can you say to all those who also dream and struggle with their own businesses ?
O. Eng R / Dreaming is the first level of planning, I have a graduate degree in business administration and I realized at the University of Oxford in one of the most famous universities in the world that the first level of dreaming and planning is most people dream , then you have to translate those dreams into reality , that dream search which are the ideas that are generated and self- product of an aspiration and a desire that is inside each of us . With all that there is to discover in that dream which is the purpose of it , take these ideas, throw and run . On very rare that you find the idea of ​​her Position yourself , be proactive , put your best effort and grow .
P / Do you remember something you have done in your life regret?
O. Eng R / Although we must make a further reflection of your question I feel that at this time there , I think I 'm happy to nothing , because of the extremely happy with my life otherwise , blessed by God.
P / If you could change one thing about your life , what would it be?
O. Eng R / Nothing, I would do the same , I wish I had had more time to be younger and to exploit the spaces that life gives , I've traveled the world and I think there are still opportunities left unexplored new things still do what I have done.
P / Do you have political aspirations ?
O. Eng R / is a very complicated answer, I would love if I participate in politics but with a different vision, a vision that we do not have now as honesty , openness , truth above all with realistic approaches. When detected in the local environment that the policy does not have one I 'm afraid to go to those scenarios that are false because it is not my training. While the current policy does not change those settings I do not see profiled , but if I am shaping when all that changed.
Suddenly the sound of my cell was heard and there we realized Ochoa engineer with the hours passed without avian realize how entertaining because of the interview. I expressed my gratitude for your kindness and invited me back to continue talking about other topics and share opinions. I shook his hand and went to my residence where I started to write this testimony that undoubtedly will serve you as an example to seek new paths and stages in their lives. For my part , I already started doing many of his own timely tips to rank soul, heart and desire in this humble work that I presented . M.L.S.
Now Tropical Seeds is a company that exports its quality products worldwide
Currently Tropical Seeds Company ( SETRO , S de RL ) is a private company established in Siguatepeque , Honduras . Its owner is the engineer who Oscar Ochoa Mendoza founded in 1992. SETRO is an international company that provides services to governmental and non-governmental organizations, social organizations and rural development and private companies worldwide .
The main activity is to produce and market SETRO tree seeds for temperate and tropical climates. To provide these services SETRO has its own laboratory for testing physical quality and other research , also has a cold for the fourth seed conservation , a database and a reference library to offer its customers technical information at any time and the world.
¿OSCAR OCHOA IS?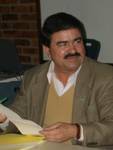 Q / Political Party? R / National.
Q / favorite drink? R / Wine and cheese
Q / Favourite food? R / Ours typical, plantains, beans, especially baked soft lean meat, plus I love the sweet desserts.
Q / Religion? R / Catholic by birth, by inheritance and conviction.
P / A President? R /'s been so few in Honduras that is difficult to evaluate, I think everyone does what he thinks he can do, but if you ask me for a name, admired Manuel Gálvez and have read a lot about it, as well as the national hero Jose Trinidad Cabañas for his honesty.
P / A Siguatepeque mayor? R / Difficult, it's been so few and few people I know like to say so is a copy mayor, because I prefer the discretion that mayors aspire to have a different view.