SETRO main activity is to produce and market seeds. SETRO has specialized in tree seeds for temperate and tropical climates as fallow:
Seed nitrogen fixing species
Seeds of forage species
Seeds for agroforestry
Seeds of ornamental trees
Seeds of tropical hardwoods
Seeds of species of tropical and temperate coniferous
Seeds of fast growing trees
Seeds of trees for firewood and energy
We also provide some additional products for forestry like:
And mycorrhizal inoculants
Materials and products for nurseries
 The SETRO market is oriented to government, non-governmental organizations (NGOs), social organizations and rural development and private companies worldwide. SETRO also has its own laboratory for physical quality trials and other research; cold room to store the seeds, database and reference library customer to offer any technical information at any time.
To enhance the quality of services and their knowledge SETRO cooperates with many organizations in the world such as:
Instituto Hondureño de Conservación Forestal. (ICF) – Honduras
Servicio Nacional de Sanidad Agropecuaria (SENASA), Honduras
Asociación Comercial de Analistas de Semillas de Canadá (CSAAC) – Canadá
Asociación Internacional de Análisis de Semillas (ISTA) – Suiza
La familia de los árboles, Texas, U.S.A.
Árboles para el Futuro (TFTF), U.S.A.
Fundación Hondureña de Investigación Agrícola (FHIA), Honduras
GALILTEC, Honduras
Escuela Agrícola Panamericana "El Zamorano", Honduras
Instituto Hondureño del Café  (IHCAFE), Honduras
Our Market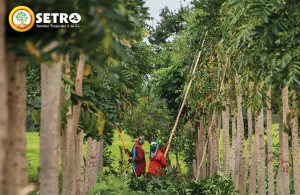 The field of action are generally seeds (export and import) with special emphasis on seed timber: hardwoods and conifers, seeds of fruit trees, fodder, agroforestry, nitrogen fixing, firewood and energy of diverse ecological origins both tropical , sub-tropical and temperate climates of the world.
Disponde own facilities as processing area, modern offices, laboratory, conference room, reception area, cold storage and dry, computer system, internet and library for specialist consultation.
 National and International Links
We serve multiple functional binding and other related institutions dedicated to reforestation and tree care. We are part of various networks and cooperation agencies in seeds as CSAAC Canada; ISTA Zurich, Switzerland; REMSEFOR of Central America, Honduras CONSEFORH-ODA, State Forestry Administration, FAMILY TREES and TREES FOR THE FUTURE (TFTF) of USA .

Field of Action
Promote national and international reforestation for timber production, recovery of watersheds, soils, rivers, improvement of the ecosystem, flora, fauna and biodiversity promotion. We supply and promote the use of our seeds for the production of plants.
Social and Economic Impact
SETRO Projected much of its activities on the field where activity is generated social and economic impact through job creation in several communities in Honduras, actively involving women.